I have a sculptural peyote bracelet to show you, and believe it or not, a lot of it is made with a circular peyote stitch.  And of course some regular flat peyote, both odd and even count.
In the Beginning…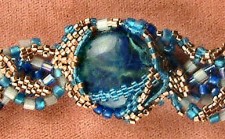 I started with seven circular peyote disks, which I sewed together.  The middle disk I did some decreases at the edge so that it would cup some, so as to be a good place to put my focal lampwork bead (which I made myself).
Once all the disks were joined together, I started my sculptural work.  The base of the bracelet was made in size 8 tube and seed beads, in shades of blue and gray.  So, for my sculptural accents, I decided to go with copper-colored metallic Delicas and some transparent blue Delicas.
The reasoning behind the Delicas is that they would provide a nice contrast to the size 8 beads.  And because they are so even, they fit together wonderfully well in a peyote stitch.
Sculptural (Freeform) Information
It's really hard to teach sculptural/freeform peyote unless it's done in person, but I'm working on a tutorial in ebook form.  The idea is to take a basic shape and turn it into something truly unique.  And have lots of fun doing it!

But in the meanwhile, you can see that the basics involve working peyote stitch over the existing bracelet.  And while in this case I didn't include any other beads other than the focal and the seed beads, many times I'll create one with Swarovski or additional lampwork beads.
And when it comes to playing with freeform peyote, the sky is the limit!  There really is no "right" or "wrong" — just what appeals to you!
Well, let me go and work on the ebook some.  Meanwhile, if you're wanting to include some lampwork in your own free form peyote, here are some options for you.  Til next time!