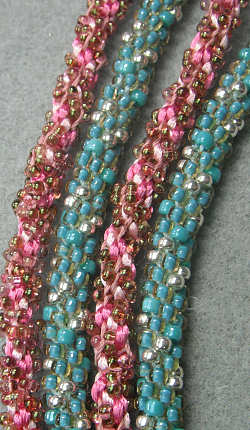 Beaded kumihimo is kind of a different animal (so to speak) from traditional kumihimo.  It has limitations, for sure, but it also lets you explore possibilities that the regular braiding can't touch.  Or at least not without a lot more work!
What is Beaded Kumihimo?
Glad you asked!  As you can see from the samples in the photo to the right, it's adding beads while working the braid.
It can also be beads added after the braiding is done.  I don't have a sample of that yet, but I have some ideas for projects lurking in the back of my mind.
Tips for Working With Beads
If you've worked regular kumi, you know that you measure off your thread or cord ahead of time and then work your pattern.  When using beads, you need to add those beads to the thread before you start braiding.  In that respect, it's like bead crochet.
One tip that will probably make your life easier is when starting your braid, make the first inch and last inch without beads.  This helps a huge amount when it comes time to putting on your end caps!
Decide ahead of time how loose you want your beading, or how much thread you want to show.  In the pink pattern, I did not add beads to each thread.  The thread becomes part of the pattern.  I also beaded looser, and used satin cord on the strands on which I didn't have the beads.
On the blue and silver braid, I had beads on all 8 threads, and I beaded tightly so that I wouldn't have thread showing.  I also used some color-lined beads to give it a little bit of a translucent effect (which doesn't show up well on the photo — much nicer in person).
As to the thread — I used C-lon, medium weight.  On the pink braid, I used some farfalle beads, and on the blue and silver I used size 8 seed beads.  Size 6 seed beads would give you a more substantial braid, as well as being easier to thread!
 More Ideas for Beaded Kumihimo — Two Books
I'm working on a project for beading ideas, but in the meanwhile, there are two books that I bought that you might enjoy reading. One is called Braiding with Beads on the Kumihimo Disk
and the other is Necklaces Braided on the Kumihimo Disk
. Both are by Karen DeSousa.
I liked both books for the ideas they provided, not to mention the lovely photography.  I am famous for not following instructions 100%, but instead use the instructions as a jumping off point.  But there are some beautiful braids and jewelry in the books, so if you prefer to follow patterns, these are sure to please.
Note:  the above books kind of assume you know the basics of kumihimo, although there are some instructions.  You can always take a look at the tutorial on my kumihimo tutorial page, though.
That's it for now — time to turn that blue and silver one into a proper necklace, so I'm off to finish it up.  See you later!
I've spent the last few weeks doing some kumihimo braiding, and I have been having fun.  I dug out my two existing books, then got three more to boot.  Not to mention a ton more silk and satin for braiding!  And yes, I have even make a kumihimo video tutorial!
So Many Braids…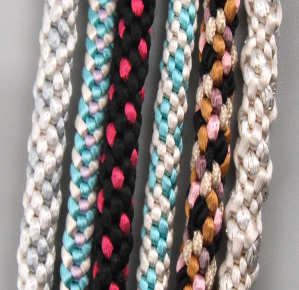 I've been experimenting with a lot of materials, textures and cord sizes.  All of the braids to the right are using the same braid pattern, except for the braid that is second to the left.  Otherwise, the only differences are colors and cord sizes (and of course, the way I set up my colors on the foam disk).
I've been making these braids into necklaces as well; you see, I have a lot of pendants, especially of the beaded cabochon kind, and many of them really need a more substantial necklace to balance them out.  I have found that kumihimo works up much faster than traditional beading stitches, so after completing a pendant, it's a soothing cool-down to make the braid to go with it.
Time for the Kumihimo Video Tutorial
If you're wanting to learn to make braids, here is a quick kumihimo video tutorial for you.  The supplies you will need are as follows:
1 Kumihimo foam disk
4 pieces of satin cord; I am using size 1 rattail in 4 colors (one of each):  Peach, Silver, Ice Pink and Ivory.  Each cord is 60 inches long.
1 twist-tie (you can also substitute a piece of wire or a piece of string).  I use this to tie my cords in the middle, and so my four 60-inch cords become eight 30 inch cords.
1 piece of string, about 1 foot long.
Now obviously you can use any colors you want; I just used 4 different colors so that you could see the progression around the disk.  I tend to use 2 or three colors, but one of these days I am going to experiment with 5 or more colors to see what happens, LOL.
I'm showing you the most basic stitch, which is what I used on most of the braids in the photo at the top of this post.  You can get all kinds of looks from it, though, just by varying the materials, colors and thicknesses.
Ready?  Let's learn kumihimo!
And of course, I got my cord at The Satin Cord.
Kumihimo braiding is an ancient art form, and one that is quite beautiful.  I bought supplies a few years ago, made one rope then tucked it all away.  But a friend of mine who is just getting into kumihimo made me break out the supplies and start braiding again.  So today's post will be about the supplies you need if you want to try this.  It's actually pretty inexpensive, unless you're like me and have to have silk and satin in every imaginable color (which is a whole other story).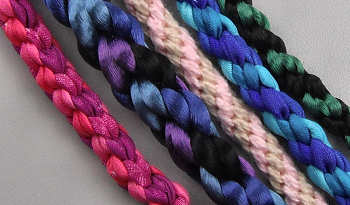 What is Kumihimo, Anyway?
Kumihimo is the craft of braiding, and the name comes from Japan, where this really has been raised to an art form.  Although other cultures also use braiding, today's craft uses the Japanese name.
Once you have made the braided ropes, you can use them for a wide variety of purposes; however, jewelry is my focal point for this craft.
Above are 5 braids I've made.  The one in the middle (pink and tan) I made long ago.  The other four I made in maybe 3 hours.  The shortest is 9 inches (the blue one, second from the right) and the longest is 19 inches – the big purple, blue and black one.  I don't know why I was thinking that the braiding took so long — it was close to instant gratification!
Kumihimo Supplies and Equipment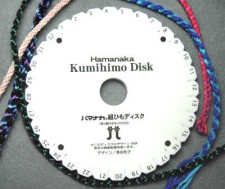 What do you need for this jewelry-making craft?  You need at a minimum a maru dai (wood or foam), cord, thread or ribbon.  If you go inexpensive, with a foam kumihimo disk and satin cord (shown to the left), you can get away with spending maybe $25 for a basic kit. I have to admit, I get a lot of my stuff off Amazon, so here are some inexpensive kumihimo kits
.
If you go whole hog with a traditional maru dai, weights, bobbins and silk thread, it'll be more like $250 to get started.
Now as to what you braid with; you'll be using ribbon, cord or thread.  It can be made from anything, although silk and satin are the most popular.  In the photo at the top of the page, I used silk ribbon (the pink one to the far left and the blue one, second from the right).  I used 3mm satin cord for the thick braid, and 1mm satin cord for the black and green braid, on the far right.  And finally, the braid in the middle is made with cotton embroidery floss.  While I do have some traditional silk, I haven't dug into my stash yet.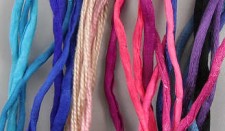 I do suggest a size 0 or size 1 satin cord for your first project; it's a whole lot easier to work with than cotton embroidery thread.  It's also pretty inexpensive.  I think my next purchase will be for some size 1 satin cord (my samples used sizes 0 and 2).  To the right are some silk ribbons, cotton thread and the size 2 satin cord.
Ultimately, you'll also need some end caps or cones for your jewelry creations.  These function to hide unsightly ends and attach a clasp.
I'll be doing a basic tutorial soon, on a very simple pattern.  Meanwhile, you can also find kumihimo books
at Amazon (of course, I have a few).  I personally buy my satin cord at The Satin Cord Store, but you can also try your local fabric or craft store.  (You can get a foam kumihimo disk at either place as well.)
Well, let me get back to braiding and pick out the pattern I will demo (the hardest thing isn't the braiding…it's choosing the pattern and colors!).  Be back later!
(It's later now, and I have a kumihimo video tutorial for you.)
(It's even later now, and you can check out the page on beaded kumihimo, too!)