A freeform peyote bracelet is part and parcel of an organic peyote bracelet.  In my mind, an organic is always freeform, but a freeform is not always organic.  I know, seems to be very little distinction, but in my mind there is.
What I term "organic" is more than just free-form.  It's also adding other elements, like lampwork for example (see my sculptural peyote bracelet post).  Free form is mixing sizes of beads, as well as textures, which gives the work a little more excitement than straight peyote beading.
Freeform Peyote Bracelet
Here's a bracelet I just made this week.  It's the standard peyote stich, but because I used 3 different sizes of seed beads, it has a texture, as well as a wave form.

The supplies I used were:
Fireline, smoke color, 6 lb.
Seed beads in sizes 15 (gold), 11 (reddish-burgundy) and 8 (matte rainbow red).
Button
Size 10 needle
Using an even-count peyote with 8 beads, I started off with the size 11 in a standard 1-drop peyote stitch, which I gradually transitioned to a single-drop size 8, which started the wave form.
After the size 8, I then transitioned to a 2-drop size 15 seed bead.  A 2-drop size 15 is roughly the same width as a 1-drop size 8, so while the width of the bracelet more-less remained the same, the texture and appearance changed.
I followed the 2-drop size 15 with a 1-drop size 11, which started another wave, since the bracelet width appeared to decrease, although I am still using the same 8-bead width.
I followed with the size 8 single-drop followed by size 15 2-drop, and then back to size 11 single drop.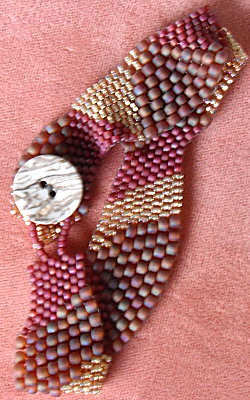 That's it!  The three different sizes and textures, along with the gradual transition from one size to the other makes it free-form.
For finishing, I sewed a button on one end, and created a loop at the other end.  I like my bracelets to not have a large gap between the two ends when I wear it, so I didn't put the button at the very end.  Instead, I put it inward, with several rows of beading visible beyond the button.  This of course is entirely optional.
I'm not listing exactly how many beads I used, seeing as it will depend on if you are using donut-shaped seed beads or tube-shaped seed beads.  It also depends on how you want to transition your beads.  You see, I never know exactly how many beads I will end up using, because most of my free-form designs "mutate" as I go.  So instead of grams, I judge by how many inches I use of my tube of beads.
I buy mine in 6-inch tubes, and I can tell you I used about 2 inches of the size 8, an inch of size 11 and a tiny bit (maybe 3/8 inch) of size 15.
I used Fireline, but you could of course use something else — check my beading threads post for other options.
The bracelet is just shy of 8  inches, including the loop (I like to wear my bracelets quite loose).  Naturally your size may vary depending on your wrist size.
And of course the colors are up to you!  I used this pallet which goes with a lot of the colors I wear (purples, violets, rose, muted fuschia).  I could just as easily have selected blues, greens or other colors.  I may even try it with some bright contrasting colors, like purple, green and orange (that might be, um, interesting).
You could even use completely different colors for each size, making a kind of rainbow effect.  In other words, your imagination is the only thing holding you back.