A freeform peyote bracelet is part and parcel of an organic peyote bracelet.  In my mind, an organic is always freeform, but a freeform is not always organic.  I know, seems to be very little distinction, but in my mind there is.
What I term "organic" is more than just free-form.  It's also adding other elements, like lampwork for example (see my sculptural peyote bracelet post).  Free form is mixing sizes of beads, as well as textures, which gives the work a little more excitement than straight peyote beading.
Freeform Peyote Bracelet
Here's a bracelet I just made this week.  It's the standard peyote stich, but because I used 3 different sizes of seed beads, it has a texture, as well as a wave form.

The supplies I used were:
Fireline, smoke color, 6 lb.
Seed beads in sizes 15 (gold), 11 (reddish-burgundy) and 8 (matte rainbow red).
Button
Size 10 needle
Using an even-count peyote with 8 beads, I started off with the size 11 in a standard 1-drop peyote stitch, which I gradually transitioned to a single-drop size 8, which started the wave form.
After the size 8, I then transitioned to a 2-drop size 15 seed bead.  A 2-drop size 15 is roughly the same width as a 1-drop size 8, so while the width of the bracelet more-less remained the same, the texture and appearance changed.
I followed the 2-drop size 15 with a 1-drop size 11, which started another wave, since the bracelet width appeared to decrease, although I am still using the same 8-bead width.
I followed with the size 8 single-drop followed by size 15 2-drop, and then back to size 11 single drop.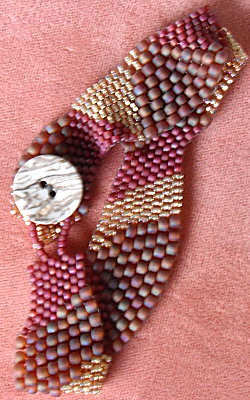 That's it!  The three different sizes and textures, along with the gradual transition from one size to the other makes it free-form.
For finishing, I sewed a button on one end, and created a loop at the other end.  I like my bracelets to not have a large gap between the two ends when I wear it, so I didn't put the button at the very end.  Instead, I put it inward, with several rows of beading visible beyond the button.  This of course is entirely optional.
I'm not listing exactly how many beads I used, seeing as it will depend on if you are using donut-shaped seed beads or tube-shaped seed beads.  It also depends on how you want to transition your beads.  You see, I never know exactly how many beads I will end up using, because most of my free-form designs "mutate" as I go.  So instead of grams, I judge by how many inches I use of my tube of beads.
I buy mine in 6-inch tubes, and I can tell you I used about 2 inches of the size 8, an inch of size 11 and a tiny bit (maybe 3/8 inch) of size 15.
I used Fireline, but you could of course use something else — check my beading threads post for other options.
The bracelet is just shy of 8  inches, including the loop (I like to wear my bracelets quite loose).  Naturally your size may vary depending on your wrist size.
And of course the colors are up to you!  I used this pallet which goes with a lot of the colors I wear (purples, violets, rose, muted fuschia).  I could just as easily have selected blues, greens or other colors.  I may even try it with some bright contrasting colors, like purple, green and orange (that might be, um, interesting).
You could even use completely different colors for each size, making a kind of rainbow effect.  In other words, your imagination is the only thing holding you back.
I have a sculptural peyote bracelet to show you, and believe it or not, a lot of it is made with a circular peyote stitch.  And of course some regular flat peyote, both odd and even count.
In the Beginning…
I started with seven circular peyote disks, which I sewed together.  The middle disk I did some decreases at the edge so that it would cup some, so as to be a good place to put my focal lampwork bead (which I made myself).
Once all the disks were joined together, I started my sculptural work.  The base of the bracelet was made in size 8 tube and seed beads, in shades of blue and gray.  So, for my sculptural accents, I decided to go with copper-colored metallic Delicas and some transparent blue Delicas.
The reasoning behind the Delicas is that they would provide a nice contrast to the size 8 beads.  And because they are so even, they fit together wonderfully well in a peyote stitch.
Sculptural (Freeform) Information
It's really hard to teach sculptural/freeform peyote unless it's done in person, but I'm working on a tutorial in ebook form.  The idea is to take a basic shape and turn it into something truly unique.  And have lots of fun doing it!
But in the meanwhile, you can see that the basics involve working peyote stitch over the existing bracelet.  And while in this case I didn't include any other beads other than the focal and the seed beads, many times I'll create one with Swarovski or additional lampwork beads.
And when it comes to playing with freeform peyote, the sky is the limit!  There really is no "right" or "wrong" — just what appeals to you!
Well, let me go and work on the ebook some.  Meanwhile, if you're wanting to include some lampwork in your own free form peyote, here are some options for you.  Til next time!
The tubular peyote beading stitch comes in two "flavors" — odd and even count.  Either way produces lovely jewelry, and depending on your project, one or the other may be more appropriate.
(Check here if you want a full overview of the peyote beading stitch.)
Tubular peyote odd count is undoubtedly easier in many cases, as the rows keep spiraling up the tube.  Even count involves a little more attention, as you have to "step up" at the end of each row.  But once you get the hang of the step up, it's just as easy as the odd count.
As with regular flat peyote beading, the first two or three rows are the hardest.  If you're just learning tubular peyote, I suggest you try either size 8 or size 6 seed beads for the learning process.  Size 11 seed beads produce a beautiful tube, but they are hard to see to determine the first few rows.  So hold off on the size 11 until you are confident with the stitch, to save yourself some frustration.
Tubular Peyote Bracelet
You can see in the photo a tubular peyote bracelet I did, using odd-count in size 8 seed beads.  It's hard to tell because of the colors I used (all three have an AB finish), but the colors actually spiral up the tube.  In any case, they produce a bracelet that fits in with Autumn and Spring colors very well.
I started my initial round with 7 beads.  After the first two rows, I ended up with three "up" beads.  At this point, I just used a different color with every stitch, producing a 3-color spiral.  (One of these days I'll have to do one of these in three very different colors so you can really see the spirals.)
Once I finished the peyote tube, at just a little over 6 inches, I ran an 18 gauge piece of red artistic wire up through the tube.  I did this because of the end caps I am using (using thread just didn't work right for me).   I threaded the wire through the end caps, and added a copper spacer and a copper  bead before making a wrapped loop.
I then added a copper S-clasp and voila!  A finished tubular peyote bracelet that is 7.5 inches long (including the clasp).
Tubular Peyote Video Demonstration
Here's a video that shows how to make an even-count tubular peyote bracelet.  Karla is pretty good about showing you up close how to start the tube and explaining the step up at the end of each row.
So without further ado, here's the video lesson on tubular peyote.