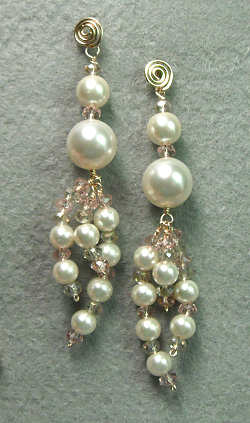 If you enjoy wire-wrapping and love earrings, here's something you may like.  It's a video tutorial on how to make wrapped loop earrings with those fun dimensional dangles.
OK, I'll confess — I came up with the term "dimensional dangles" myself.   But to me, it seems to fit.  🙂
Why Dimensional?
Many, many times I have added multiple charms/dangles on a pair of earrings or a pendant.  And while sometimes the "spreading" look is what I want, other times I want a different look.  Sleeker maybe, with some curve instead of just straight lines.
Now I highly doubt that I am the first one to come up with this!  But I did want to share this with you.
Wire Wrapped Earrings
It's been awhile since I've done much wire wrapping.  It's actually how I first got into jewelry making, back when dinosaurs roamed the earth.  (Well, maybe not that long, but it's been awhile.)  I've been busy with my bead embroidery, but every so often I like to go back to my roots.
So, wire wrapped earrings it was!  And since I had just made a how-to video on double-wrapped loops and eyepins, it seemed fitting that I would make the earrings with double-wrapped loops.
And Now the Video Tutorial
I'm sure you're waiting to see the video, LOL.  You'll need wire (I used 24 gauge), some beads, wire cutters, two pair of pliers (one of which has to be round-nose) and a couple of jump rings (if you decide to make the patters for the second pair I show).
I used red brass wire, which is pretty similar to gold-filled — but a whole lot cheaper!  However, please feel free to use whatever wire you like.  You can also use 22 gauge wire; possibly even 21 gauge in a pinch.  But by the time you make it to 20 gauge, the wraps are harder to make when the loops are small.
Here's the video.  It's almost 23 minutes long, so get comfy and enjoy!  And as always, if you enjoy the video, please feel free to like me on Facebook.  😉