Making Chain Maille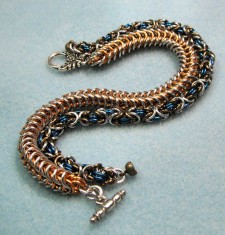 Welcome to my chain maille gallery, for your viewing pleasure.  As you can tell from these pages, I enjoy wire jewelry of all kinds.  And what is chain maille except wire rings!
I've written up some info on this amazing art form, and I also have some tutorials to share with you.  So I hope you enjoy reading about it, looking at photos and just enjoying yourself in general.
Chain Maille Tutorials
The tutorials I have ready for you include:
Chain Maille Rings.  As you start reading up on mailling, you'll see terms like ID and AR and SWG and AWG and…well, you get the idea.  This handy-dandy free ebook guide helps you make sense of all the acronyms. It's something you need to read before you go out and buy a bunch of jump rings!
Byzantine and Box.  These are two very popular chain maille weaves.  Byzantine is one of the first weaves most people learn because even though it looks complex, it's really very easy!
Celtic Weaves.  This tutorial stars the fascinating weave Celtic Visions.  It also shows you the Helm, Half Helm and Celtic Kisses chain maille patterns for jewelry.
I have more in the works, including the gorgeous Turkish Roundmaille and the oh-so-fun Rhinos Shorting Drano.  Also on the horizon are the Euro weaves (4-in-1, 6-in-1, kingsmaille) and then Japanese linking.  I imagine that Dragonscale will also make an appearance at some point.  😉 So come on back to check out what's new.
Chain Maille Articles
In addition to the jump rings, there are some more things to know about when exploring maille.  So I have some articles for you on the ins and outs, tools and supplies– all manner of things.  Here's an article about where to start.  And are you wondering about what metals to use, check out Chain Maille Metals – What Are Rings Made Of?
Chain Maille Gallery
It's no fun if you can't see photos!  I'll show you some of my work so you can get inspired to create your own jewelry.  I hope you enjoy looking at my chain maille gallery at least half as much as I enjoyed making the chain maille jewelry!