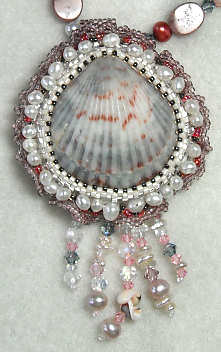 Bead embroidery — what exactly is it?  The short answer is that it's exactly what it sounds like – embroidering with beads.  The long answer is that it's an art form all its own!
A Short Course in Bead Embroidery
If you've perused beading magazines, you've probably come across Sherri Serafini's work at some point or another.  Although she wasn't the first person to embroider with beads, I think it's safe to say that she's the one who took it from "wow" to "WOW!"
Yes, bead embroidery can get very elaborate, but it can also be fairly simple.  You can make s small pendant or a ultra-fancy collar.  Or anything in between!  In all honesty, the only limitation is your imagination.
And bead embroidery is not only for jewelry, but also for things like handbags, shoes and the like.  I've seen one awesome beaded hat — I can't imagine the time it took for that piece!  (Nor how heavy it muct have been by the time all the beads were on.)
How is Bead Embroidery Done?
The most common way (these days) is by gluing a cabochon of some type to a backing.  Then the cab is surrounded in beads in all manner of colors and patterns.  The stitching is done down through the backing, so you are embroidering the top side.
Sometimes, bead embroidery is done to that the cab isn't glued to the backing, but rather the embroidery is built up so that it bezels the cab, thus holding it to the backing without any type of adhesive.  This is generally done when a cab is valuable, or when adhesive might damage it.  One example is when using rivolis; glue might damage the metal backing to the rivoli.
What Kind of Backing?
I use a product called "Lacy's Stiff Stuff", which is firm, but your beading needle can easily sew through it.  You can find it online, and beading stores generally carry it as well.  I've also seen it a time or two at some of the craft stores, like Jo-Ann or Michael's.
Some people perfer to use suede or a microfiber fabric to the backing.  Both of these are "floppier" than the Stiff Stuff, but it's really a matter of what you are used to and like.  A thick interfacing works well too (which is basically what the Stiff Stuff is, only not as stiff).
I'll be making some more bead embroidery soon (you ought to see all the cabs I have glued to backing I have waiting) and will share it them.  Meanwhile, you might want to check out my "Can-Can Cabochon" necklace tutorial for instructions for starting out in bead embroidery.
P.S. – The photo above is one of the variations I include in the Can-Can tutorial.
Yep, the sky is the limit when it comes to bead embroidery.  Simple to sensational, it's all up to you.