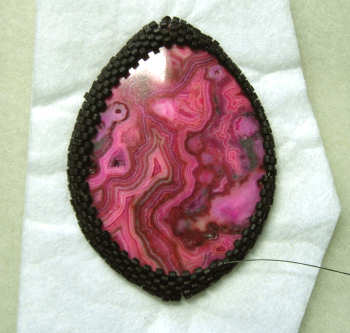 I started talking about bead embroidery in the last post, and I thought I would lead you through my latest bead embroidery work in progress.
(I should have taken a photo when I didn't have anything on the cab, but oh well.)
Se here we go, a stunning pink agate cabochon.  Well, almost stunning; when I received it, I notices quite a few pock marks and pits on the cab — that will teach me to order something blindly!  (But in the seller's defense, I had bought plenty other items that weren't pocked/pitted.)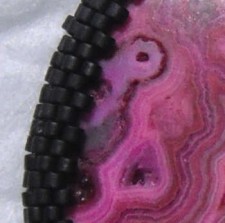 Here's a closeup photo of what I am up against.
My original thought of doing a more minimalistic project was kind of dashed, because I needed to hide these marks somehow.  Fortunately, the absolute worst was along the edge, so would easily be covered by the bead bezel.
But what to do about the rest?  I do have some thoughts and ideas; I'll just have to see how they pan out in practice.
Color Choices
When I got this cab (and it really is prettier in person; I haven't been able to capture the gorgeous coloration), I wondered what colors I should use for the beading.  I went through all the stash and found some pinks and purple that were about right.
Then I decided that instead of competing with the cab, I should be setting it off.  So I chose black.
But, my plans are to use several kinds of black beads.  I have both matte and opaque, in seed beads, bugles and matagamas.  I may throw in some hematite colored beads; not sure on that yet.
So stay with me over the next week or so, and you'll see this cab bead embroidery project evolve.
Getting Another Cab
I am enjoying bead embroidery, so I am always on the lookout for cabochons to use. 
My favorite haunts are gem and jewelry shows, but alas, there won't be any here for a few months. 
I decided to take a look at ebay.  Although I haven't bought any there in the past couple of years, I decided to peruse their offerings yesterday and found all kinds of goodies!  And best yet — in the vast majority of cases, it's what you see is what you get — no ordering where you get something "similar" to the photo.  (Although there are a few of those, they are usually very clearly marked.)
My own personal preference is sizes 25mm x 18mm up to around 45mm x 35mm.  But I have been known to go higher and lower for a gorgeous cab.  The pink one I am working on is something like 51mm x 38mm.
Anyway, I'm taking a coffee break and seeing what else tickles my fancy for an upcoming project (in other words — time to go shopping).  Then it's back to work for my next installment on the above bead embroidery project.