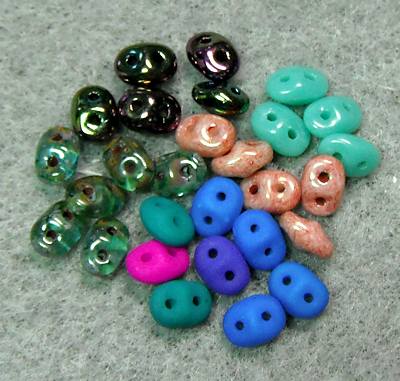 OK, it might sound like an odd question, "How do you duo?"  What I am really referring to are the new Superduo beads that are being put out by beadmakers in the Czech Republic.
Duo or Duette?
Well, these are "duo" and the reason behind the name is apparent when you look at the beads — they have 2 holes!
These are classified as seed beads, and are 2.5 x 5 mm in size.  They are roughly oval in shape, but they have an interesting profile.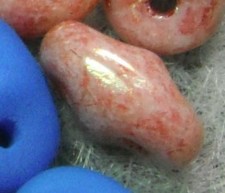 Seen from the side, the ends are tapered and the middle has a bit of a bulge.  (Hmmm, I think I can relate to that, LOL.)  😀
The unusual shape, along with the two holes lends itself to all kinds of stitch variations and design possibilities.
Colors and Patterns – Oh My!
I have to hand it to the Czech beadmakers — they have definitely been upping their game in the last couple of years.  I'll admit, I used to pretty much ignore the Czech beads, aside from maybe the Charlottes.  The colors weren't exciting, the beads looked, umm, cheap — with the exception of the fire polished glass beads.
Now, I feel like I am in a candy store!  There are neon colors, cool patterns like Picasso and Travertine, and a slew of other colors and patterns that will be having the Japanese beadmakers playing catch-up.  The beads in the photo are just an itty-bitty example of some of the colors available.
(I came close to dumping my collection out on the table for a photography session, then realized I'd be spending the rest of the evening trying to get all the beads back into their individual containers.)
What Can You Do With Duo?
I'll admit, I had absolutely no clue as to what I would actually do with them, once I clutched them in my hands and handed over my credit card (cha-ching!) to the store clerk.  So, I got them home and stared at them.  Took them out of their tubes and stared some more.  Hmmm.
Then I started playing.  And with each pattern and idea I tried, it lead to another idea and another and another…
That being the case, I figured that I'd settle on something, make it and then do a video tutorial so everyone could enjoy it.  🙂
Earrings!  Bright and fun and funky, all ready for you to make.  Naturally, you can make them in any color or color combination you choose, but I used some of the new neon shades, for both the superduo beads, as well as the dagger bead.
So let loose and have fun creating your own earrings.  But I warn you, they are like potato chips — once you start, it's hard to stop, LOL.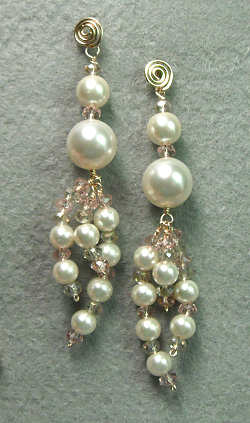 If you enjoy wire-wrapping and love earrings, here's something you may like.  It's a video tutorial on how to make wrapped loop earrings with those fun dimensional dangles.
OK, I'll confess — I came up with the term "dimensional dangles" myself.   But to me, it seems to fit.  🙂
Why Dimensional?
Many, many times I have added multiple charms/dangles on a pair of earrings or a pendant.  And while sometimes the "spreading" look is what I want, other times I want a different look.  Sleeker maybe, with some curve instead of just straight lines.
Now I highly doubt that I am the first one to come up with this!  But I did want to share this with you.
Wire Wrapped Earrings
It's been awhile since I've done much wire wrapping.  It's actually how I first got into jewelry making, back when dinosaurs roamed the earth.  (Well, maybe not that long, but it's been awhile.)  I've been busy with my bead embroidery, but every so often I like to go back to my roots.
So, wire wrapped earrings it was!  And since I had just made a how-to video on double-wrapped loops and eyepins, it seemed fitting that I would make the earrings with double-wrapped loops.
And Now the Video Tutorial
I'm sure you're waiting to see the video, LOL.  You'll need wire (I used 24 gauge), some beads, wire cutters, two pair of pliers (one of which has to be round-nose) and a couple of jump rings (if you decide to make the patters for the second pair I show).
I used red brass wire, which is pretty similar to gold-filled — but a whole lot cheaper!  However, please feel free to use whatever wire you like.  You can also use 22 gauge wire; possibly even 21 gauge in a pinch.  But by the time you make it to 20 gauge, the wraps are harder to make when the loops are small.
Here's the video.  It's almost 23 minutes long, so get comfy and enjoy!  And as always, if you enjoy the video, please feel free to like me on Facebook.  😉
Directions for viking knit chain are fairly straightforward, but maybe not easy to grasp at first.  A video tutorial, free instructions and a more comprehensive tutorial await you!
What is Viking Knit Chain?
First, what is viking knit chain, and what does it look like?  You can see an example in the photo to the right as well as in my viking knit gallery, so let's quickly go over what is viking knit.
Viking knit is a wire chain consisting of loops.  The loops connect together to form a tubular chain, which can then be made into jewelry.
Viking knit is normally done in either single knit or double knit forms.  Triple knit is also sometimes done with very fine wire.
The photo you see is a single knit chain. Normally I might draw the chain down farther for a viking knit bracelet, but I liked the lacy look of this particular piece.
To make viking knit chain, you need a dowel, a draw plate and wire of a suitable gauge (usually 24 or 26 gauge).
Directions for Viking Knit Chain
When it comes to directions for viking knit chain, I have three ways for you to learn to make it.  The first two ways are free, the third will cost you a small amount (but is comprehensive).
First is the video instruction for viking knit.  It's a nice overview and shows how the loops are made.
The second is a free online tutorial that has some good photos.  It teaches single knit viking chain.
The third is a tutorial I wrote in response to requests.  It covers single knit, double knit, wire, using a draw plate, a project and more!
So my suggestion to you is look at the two free directions for viking knit first.  If they answer all your questions, great!  That's all you need to know to make viking knit jewelry.
If, however, you want more in-depth instruction (with lots of real-life photos), then I suggest you go ahead and purchase the ebook tutorial for $10.
All set?  Here's the video, which teaches using the allen wrench and bench vise method.  Directly  below the video are the links to the free instructions as well as my own tutorial.
And here's my very own tutorial in ebook form, teaching viking knit with a simple dowel (no bench vise needed).  This ebook is for you if you're having trouble following the above instructions, or if you just want lots (and I do mean lots) more information!  Not to mention tons of up-close photos.  🙂