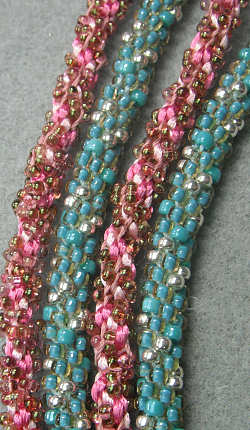 Beaded kumihimo is kind of a different animal (so to speak) from traditional kumihimo.  It has limitations, for sure, but it also lets you explore possibilities that the regular braiding can't touch.  Or at least not without a lot more work!
What is Beaded Kumihimo?
Glad you asked!  As you can see from the samples in the photo to the right, it's adding beads while working the braid.
It can also be beads added after the braiding is done.  I don't have a sample of that yet, but I have some ideas for projects lurking in the back of my mind.
Tips for Working With Beads
If you've worked regular kumi, you know that you measure off your thread or cord ahead of time and then work your pattern.  When using beads, you need to add those beads to the thread before you start braiding.  In that respect, it's like bead crochet.
One tip that will probably make your life easier is when starting your braid, make the first inch and last inch without beads.  This helps a huge amount when it comes time to putting on your end caps!
Decide ahead of time how loose you want your beading, or how much thread you want to show.  In the pink pattern, I did not add beads to each thread.  The thread becomes part of the pattern.  I also beaded looser, and used satin cord on the strands on which I didn't have the beads.
On the blue and silver braid, I had beads on all 8 threads, and I beaded tightly so that I wouldn't have thread showing.  I also used some color-lined beads to give it a little bit of a translucent effect (which doesn't show up well on the photo — much nicer in person).
As to the thread — I used C-lon, medium weight.  On the pink braid, I used some farfalle beads, and on the blue and silver I used size 8 seed beads.  Size 6 seed beads would give you a more substantial braid, as well as being easier to thread!
 More Ideas for Beaded Kumihimo — Two Books
I'm working on a project for beading ideas, but in the meanwhile, there are two books that I bought that you might enjoy reading. One is called Braiding with Beads on the Kumihimo Disk
and the other is Necklaces Braided on the Kumihimo Disk
. Both are by Karen DeSousa.
I liked both books for the ideas they provided, not to mention the lovely photography.  I am famous for not following instructions 100%, but instead use the instructions as a jumping off point.  But there are some beautiful braids and jewelry in the books, so if you prefer to follow patterns, these are sure to please.
Note:  the above books kind of assume you know the basics of kumihimo, although there are some instructions.  You can always take a look at the tutorial on my kumihimo tutorial page, though.
That's it for now — time to turn that blue and silver one into a proper necklace, so I'm off to finish it up.  See you later!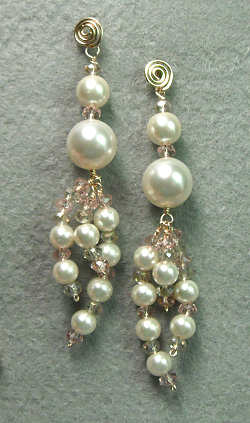 If you enjoy wire-wrapping and love earrings, here's something you may like.  It's a video tutorial on how to make wrapped loop earrings with those fun dimensional dangles.
OK, I'll confess — I came up with the term "dimensional dangles" myself.   But to me, it seems to fit.  🙂
Why Dimensional?
Many, many times I have added multiple charms/dangles on a pair of earrings or a pendant.  And while sometimes the "spreading" look is what I want, other times I want a different look.  Sleeker maybe, with some curve instead of just straight lines.
Now I highly doubt that I am the first one to come up with this!  But I did want to share this with you.
Wire Wrapped Earrings
It's been awhile since I've done much wire wrapping.  It's actually how I first got into jewelry making, back when dinosaurs roamed the earth.  (Well, maybe not that long, but it's been awhile.)  I've been busy with my bead embroidery, but every so often I like to go back to my roots.
So, wire wrapped earrings it was!  And since I had just made a how-to video on double-wrapped loops and eyepins, it seemed fitting that I would make the earrings with double-wrapped loops.
And Now the Video Tutorial
I'm sure you're waiting to see the video, LOL.  You'll need wire (I used 24 gauge), some beads, wire cutters, two pair of pliers (one of which has to be round-nose) and a couple of jump rings (if you decide to make the patters for the second pair I show).
I used red brass wire, which is pretty similar to gold-filled — but a whole lot cheaper!  However, please feel free to use whatever wire you like.  You can also use 22 gauge wire; possibly even 21 gauge in a pinch.  But by the time you make it to 20 gauge, the wraps are harder to make when the loops are small.
Here's the video.  It's almost 23 minutes long, so get comfy and enjoy!  And as always, if you enjoy the video, please feel free to like me on Facebook.  😉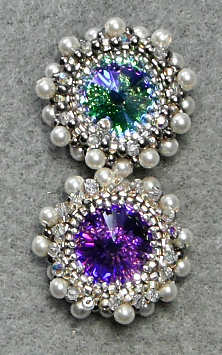 I absolutely love the look of rivolis, and judging from what I have seen, a lot of others do too!  I thought I would share some rivoli pendants I've made, and talk a little about them.
What Are Rivolis?
Just a quick overview on what a rivoli is.  Most commonly they are made by Swarovski, and they come in diameters from 8mm through really huge (28mm is the largest I have seen to date).  The most commonly used sizes are 12mm, 14mm and 16mm.
What makes a rivoli different is that it has both a pointed top and a pointed bottom, with the bottom being a shallower depth.  This provides for more facets in the crystal, which of course means more sparkle!
The challenge is that because the back isn't flat, it takes a little more maneuvering to incorporate these gorgeous hunks of bling into your jewelry.
A Class in Glass
And by glass, I mean working with rivoli stones.  I am lucky enough to live within an hour of a bead store that often has nationally-known teachers.  I signed up for two classes with Amy Katz, and am I ever glad that I did!  Not only is Amy a fabulous teacher, but she is a wonderful person.  If you get a chance to take a class with her, do it!!!
The two rivoli pendants at the top of this post are part of one of Amy's projects.  She has a unique style of cradling the rivolis so that they are secure.  Then you can have lots of fun embellishing them!  The project in the class used small 3mm pearls as part of the embellishment, which made the rivoli stand out.  These pendants use 14mm rivolis.
(I am not doing to discuss how to do the backing out of courtesy to Amy, since she teaches the method.)
And Now to Explore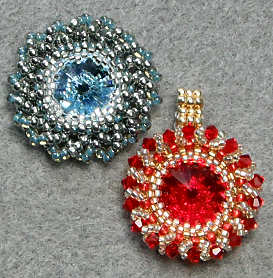 My style of jewelry-making means that I make the project once (or maybe twice) the way the teacher explains, then I go off and make my own versions.  I probably seemed like a "loose cannon" to poor Amy!
For the two pendants on the right, I used a more "bling-y" approach.  For the red pendant, I used 3mm Swarovski bicones as part of a swirl around the rivoli.
For the aqua stone, I used the same basic steps.  However, instead of using a bicone as part of the swirl, I used more seed beads.  It's kind of hard to tell, but this pendant is larger overall than the red one.
As is usual for me, I made some of these pendants to give as gifts.  And as even more usual, I neglected to take photos of the pendants before I gave them to their (I hope happy) owners.  One of the pendants was made using an 18mm rivoli, which took a little more experimentation to get the back the way Amy taught (but I did it!).  The other was done in another Glacier Blue 14mm rivoli.
Rivoli Hunting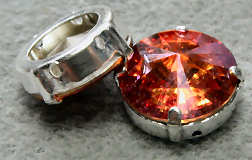 I split my rivoli purchases between the bead store and ebay.  And on ebay I recently ran across some really cool stones — they are sew-ons!
Naturally, I had to scoop up some.  Do I know what I will do with them yet?  Of course not, LOL!  Well, actually I will probably use them in a bead embroidery project I am contemplating.
(Off to get some more, seeing as I will want to make my project-to-be in at least one other color.)
There are plenty of places, both physical stores and online, that sell these wonderful crystals. Shop for them where you like best!  But do get some and experiment with these glorious crystals!