This is a book review of Seed Bead Stitching: Creative Variations on Traditional Techniques, by Beth Stone.  If you love seed beading, or if you'd like to learn about this addicting hobby, then you'll want to check out this written and video review.  Let's start!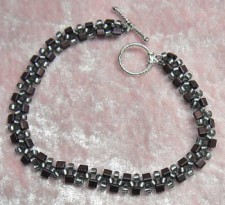 Seed Bead Stitching
is a great introduction to the wonderful world of bead weaving.  The projects are simple, and most of them don't take long to create (wonderful if you like "instant gratification" like me).  It's suitable for all levels of beaders, from beginner to advanced.
The subtitle of the book is "Creative Variations on Traditional Techniques", but in this book, there are several "un-traditional" stitches included, like the tri stitch, quad stitch and russian rope.  The photo to the right is a bracelet done in the quad stitch.
Of course, some traditional beading like peyote, brick, right angle weave daisy chain and spiral stitches are also included (along with quite a few others along the way).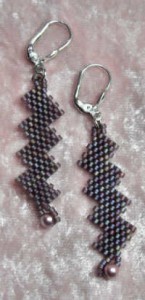 Seed Bead Stitching isn't just the beading stitches; it's also full of information on bead types, threads, needles and naturally…projects!
If I have any complaints about this book (and I really don't), it would be to have some projects that had a little more "meat" on them.  Beth mentions that she likes fast and easy, and the projects reflect that.
I will say, though, that she has a wonderful way of mixing bead types and sizes.  Even if you happen to know all these bead stitches, get it for the inspiration!  I happen to like freeform-style beading, and she almost bridges the gap between freeform and traditional stitching, just because of her creative use of different sizes and kinds of beads.
To the left you'll see one of the projects in Seed Bead Stitching
, one for diagonal peyote earrings.  These were a blast to make, very quick, and they are most comfortable to wear.  I made the earrings with 4 diagonals, but you could easily make them longer or shorter.  Hint — to get the crispest shape out of this project, use either Delicas or Tohos instead of regular seed beads.
Check out the video I made (below) to get a look inside the book, as well as a couple of other projects I did from the book.
I hope you enjoy the video review, as well as this written one, and that Seed Bead Stitching
will inspire you to make some beautiful jewelry of your own!
(Click on the video to start it playing.  If you double-click it, you'll see it in full screen.)